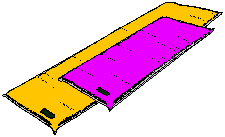 Review by:
Quick Facts
(And Overall Rating)
A reliable piece of gear.
Type
Self inflating
Construction
Nylon wrapped, 2 layer closed cell foam
Mfg. Weight
NA
Features

¾ length for light weight
Heavy Duty nylon shell
Self inflating
Background
I bought my Therm-a-Rest pad in 1992 just prior to my trip to Wyoming. I used it 4-5 days a week for the better part of 14 weeks and it kept me warm, dry, and comfortable. I had only one complaint throughout the whole time: the top was slippery, and I tended to slide off of it at night. This turned out to be a common complaint, and in 1994, Cascade Designs released a new series of Therm-a-Rest models with a "Staytek" top fabric that was non-slip. I have also recently remedied the problem on my mattress with the use of a spray-on compound that makes the surface tacky. I can't remember the name brand and I seem to have lost the can that it came in, but as soon as I figure it out, I'll put the information here. This, more than anything, has done wonders to improve my sleeping comfort when using my Therm-a-Rest.
Self Inflating vs. Closed Cell Pads
One of the most common criticisms that I hear about this mattress is that it is heavy. I don't believe that it is much heavier than its closed-cell counterparts, although I have always used the 3/4 length Therm-a-Rest and compared it to the full-length rigid mattresses. As far as warmth and comfort go, I believe that the Therm-a-Rest beats any of its closed-cell cousins hands down. All but the really high-density, smooth surface, closed-cell mattresses seem thin and lumpy to me when they are under my sleeping bag. Although nothing can compare to how hard and lumpy it was when I found my mattress had a hole in it on the first night of my most recent trip. More than anything else, those two nights I spent with almost nothing between my sleeping bag and the hard ground (New Hampshire is the Granite State after all) gave me an incredible appreciation for how important a comfortable sleeping pad is to a good night's sleep. And, how important a good night's sleep is to an enjoyable experience.
So, I guess these are the characteristics that cause people to choose one type of sleeping pad over the other. Comfort vs. reliability. Simplicity vs. complexity. If you truly appreciate a good night's sleep and are finding, as I am, that the ground seems to be getting harder as you get older (I swear when I was in college I could sleep on a concrete floor for 3 hours and wake up refreshed, although this may say more about my capacity for beer consumption rather than my ability to sleep anywhere) you will probably enjoy the Therm-a-Rest pad with its thick, cushy, inflatable comfort. If, however, you are a fan of equipment that is the ultimate in reliable and are willing to trade a little comfort for that reliability, a solid, closed-cell pad may be for you. Closed-cell pads never spring leaks and deflate under you at night. As for me, I've patched the hole in my pad so I can get another 6 years out of it. And I'm trying to find a way to bring my pillow from home onto the trail with me -- I'm getting a little tired of fleece jackets stuffed into my sleeping bag's stuff sack.
Cascade Designs Support
Cascade Designs gives a limited lifetime warranty on their products. If you go to their Therm-a-Rest repair page, you can see the details. They also give some instructions on fixing minor holes yourself. I can't bear the thought of claiming a warranty problem on a mattress that I have used for 6 years and have probably abused way too much. For example, I know I am guilty of the following:

I have continually stored the mattress rolled up instead of flat with the valve open as they suggest.
It spent most of its working life lashed to the outside of a pack without a protective stuff-sack.
I sprayed the "tacky goop" onto it which was not specifically recommended by Cascade Designs.
And even after all of this it still held up for 6 years. Not bad I'd say. So, I went to my local outdoors store and spent $3.99 on a genuine Therm-a-Rest repair kit. It contains patches, glue, and instructions. The directions can be followed (and in fact are designed to be followed) while out on the trail with only a camp stove and some basic facilities. I found the pinhole leak in my mattress with only a few minutes and some soapy water, and quickly patched the hole. In ten minutes, the thing was dry, and standing up to me bouncing up and down on top of the inflated mattress. You have to love a company that is so committed to the environment that they would rather help you fix an old product than have you throw it out. That's why they have a repair portion on their web site, and sell repair kits with the same materials they use when originally building the products.

Summary
An indispensable piece of equipment. There's nothing like getting a good night's sleep in the fresh air out in the woods somewhere, and getting that good night's sleep is so much easier with a soft cushy mattress between your butt and the cold hard ground. I'm willing to trade the risk of a puncture for the extra cushioning I get from a self inflating pad. Only from now on, I'm carrying the repair kit with me on every trip. And here's another little secret: if you combine this mattress with a chair kit from cascade designs or some other manufacturer, you will never go back to sitting on the ground again. Look for the chair review elsewhere on this site.

Please note that anything I say here is simply my opinion. I am an expert (and a legend) only in my own mind. For the official corporate scoop, check out this product at Cascade Design's Website. You can click here or on the banner below.